Customer Reviews
Filter Reviews:
everything
mission
travel kit
Sword & Plough
family
friends
Price
vets
Great Gift Idea
I bought the travel kit as a gift for my brother and he loved it! It is difficult to shop for him because he has almost everything already. As a combat vet he really appreciated Sword & Plough's mission. He had such a positive reaction to the travel kit that I now plan on getting a few more for the other vets in my family.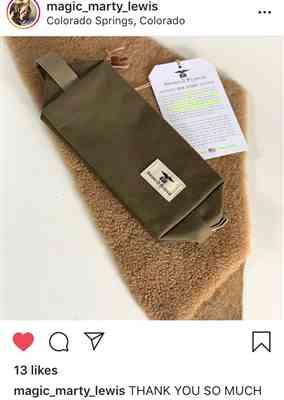 04/20/2019
Roelof S.
United States
Perfect size, versatile and good quality travel kit
This travel kit can be used in so many ways. I am thinking of buying two more, one for all my cables and chargers when doing road trips and another one for putting in my headlamp and flashlight when camping with friends. Good price for a good quality product made in the USA.
06/27/2018
Kathryn K.
United States
WAY TOO SMALL!
Quick arrival, glad to support troops, was disappointed with the size for the cost.
08/21/2017
David L.
United States
Compact Travel Kit
Extremely Satisfying from flash to ****.
07/12/2017
Michaelline G.
United States
Exactly as I expected!
I ordered the mini travel bag for my boyfriends nephew who is leaving for the army tomorrow morning. It arrived within a few days of purchasing which was great! The bag was great quality! The stitching doesn't have a cheap or rushed look either. It is definitely worth the $50! I do recommend working on shipping which could save on costs allowing for bigger donations to be made from each item. My bag came in a box that could have easily fit 2-3 more of the same bag. Sending it in a plain padded envelope seems like it would save some money and save on wasted materials. Another box that I just end up throwing away. Other than that, perfect product!
06/26/2017
Alexander L.
United States
Small, the right kind of small.
This is a wonderful mini Dopp kit, looks very old school military in style. I have a preference for smaller toiletry kits and this fit the bill perfectly, doesn't take up too much room in my luggage. Very durable, I absolutely love it.
06/22/2017
Trisha K.
United States
Wonderful
What a great experience and a great product!
Great Gift for Anyone
Great gift for anyone. The bag is beautifully made and extra special since it is recycled material and a percentage is given back to help those who have served our country. I will be buying many more gifts from this company.
05/26/2017
KAREN L.
United States
Great size for travel
This product is well-made and extremely good size for travel. I'm able to put in all of my skin care products into the pouch and it's very good to have the handle on the side so I can hang it up when I need to.
I Love This Company
I purchased three items during my first ever purchase with this company. I've been watching the website for quite a while because I love their Mission. When I came across their booth at a local women's event, I couldn't keep myself from finally buying a few of the things I had had my eye on. This travel kit is great. I'm actually using it as a larger makeup bag. I had a hard time deciding what to use it for because it is such a perfect size that I could have used it for at least a dozen different things. The craftsmanship is great and I think it's pretty cute too. You can't lose out when you purchase a cute, practical item and also support our Veterans!
---