Customer Reviews
03/24/2017
Nicole P.
United States
Handbag - Now with new shoulder strap
I picked out the brown handbag as a holiday gift for myself this past year (so my husband could get something he knew I'd like) and I loved it. The one thing missing was a shoulder strap - now with that optional accessory, I love it even more!
03/15/2017
Pamela M.
United States
Shoulder strap
It was perfect.
03/08/2017
Sharon H.
United States
Brown leather strap
I love adding the longer strap to my pocketbook. It allows hands free movement which is necessary in my life. Thank you!!
02/28/2017
Judith H.
United States
Love it!
Love, love, love!!!!!
02/27/2017
James B.
United States
GF loved it!
As always with Sandp, an excellent, well-crafted, product that the lady-friend loves. Thank you!
02/27/2017
Barbara D.
United States
Review of Brown Leather Handbag Shoulder Strap
Good experience! Love Sword and Plough! Love the Scriptural meaning behind name. Love my handbag as well. But don't love the too-short handles. I'm a girl who wants to carry any purse on my shoulder, tucked under my arm. The handles barely allow me to do this. If they were each even three inches longer, I could do this. So, had to buy strap, which is too long and had to be cut to approximately half its length, thereby wasting remaining leather. But now I can carry it as I wanted to originally. Barb in Tucson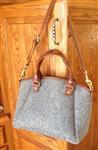 02/20/2017
Alicja S.
United States
It was great!! I appreciated
It was great!! I appreciated Y'all making the shoulder strap for the wool handbag and also the personal email. Thanks so much!!!! Wishing you much success!
---